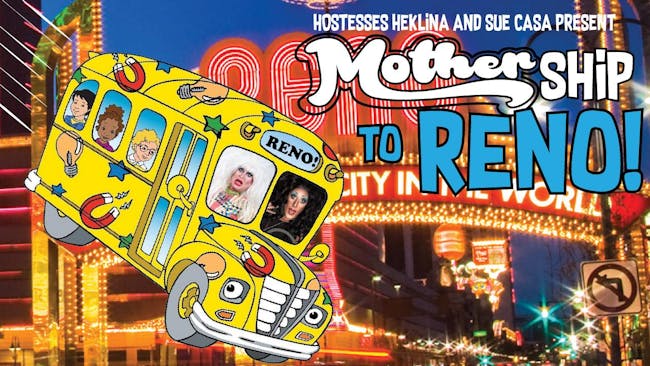 Heklina and Sue Casa present
MOTHERship to Reno 2020
$165.00 - $180.00
Canceled
MOTHERship to Reno 2020!
Only once a year does such a spectacle of DEBAUCHERY AND INEBRIATION get forced upon the general public.
MOTHERship To Reno Trip Details
All aboard! The MOTHERship is calling you. You're about to purchase yourself a non-refundable round-trip seat on a bus adventure you'll never forget...if you can remember it. Welcome to the 23rd Annual Reno cross-state drag road-show. YES! 23years! Heklina and Sue Casa are thrilled to be back on-board as "Den Mothers"- hosting the buses and wrangling this giant pack of traveling drag queens, kings, and all other species of weirdo. Heklina and Sue will be jumping from bus-to-bus so there's plenty of them to go around. Included below is some information you'll need in order to properly attend, as well as, some advice to first-timers.
SF DEPARTURE:
This year, we will depart San Francisco from Oasis (298 11th at Folsom) at 11:00am on Saturday April 11th . Plan on arriving at Oasis for our send-off soiree at 10:30am, which includes check-in, bag storage, and boarding. We will be serving mimosas, and guests are encouraged to bring brunch-munch if they'd like (muffins, brownies, cupcakes, fruit). The buses depart at 11:00am and will NOT run on drag-time . We will leave without you if you're not there.
EN ROUTE:
A big part of the trip is DRAG, so all passengers are strongly encouraged to costume themselves somehow. There will be the traditional Bus Runway Fashion Show, the annual Auburn McDonald's Take-over, perhaps some lip-sync roulette, and of course our return trip will include an awards ceremony with prizes for "Best Overall", "Best Easter Look", "Best Newcomer" and "Best Drunk".
CHECK IN / SHOW:
When we arrive in Reno, we will head to the "historic" Sands Regency Hotel & Casino for check in. You'll then be on your own for gambling, dinner, drinking, napping, drinking, and getting ready for the MOTHER show. We will all meet up again at 11pm for the DRAG PARADE to the MOTHER Show at the fantastic Faces (239 W 2nd Street). DJ Ion The Prize will be spinning up dance delights. After the show, you are free to keep dancing or head back to the Sands for sleep (or whatever). If you'd like to perform in the show, contact Heklina: heklina@heklina.com.
SUNDAY MORNING / EASTER BRUNCH / RENO DEPARTURE:
Check-out/Departure will be at 11am and we will all board the buses and head to the Silver Legacy for EASTER BRUNCH. Dress in your Easter finest! We will board the bus and depart from The Silver Legacy at 1:00pm. Please don't miss the bus back to San Francisco!
RETURNING HOME:
We will be unloading at Oasis (298 11th at Folsom) where the hardcore can keep the party going. It's hard to say when we will hit San Francisco exactly, but plan for early evening. It could be later depending on weather, traffic, etc.
SPECIAL ACCOMMODATIONS:
If you have any special wishes, such as buying two bus seats for the extra room or staying in a single room rather than a shared room, please let me know. These sort of accommodations would require an additional charge, but are doable. Or if you have any questions, don't hesitate to contact me, Sue Casa, at casadesue@gmail.com.
All Aboard!!
xo Sue Casa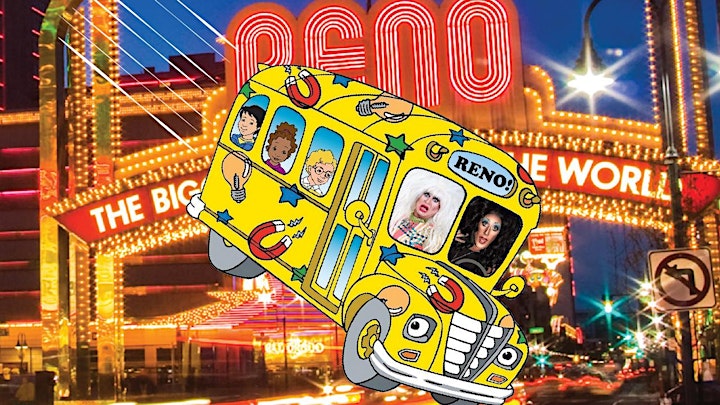 Venue Information:
Oasis
298 11th Street
San Francisco, CA, 94103